James Benkard: A Tenacious Advocate for Human Health and the Environment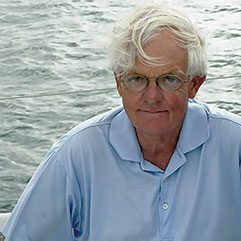 James Benkard, EDF Trustee
Environmental Defense Fund (EDF) lost a guiding light with the passing of Jim Benkard. A corporate litigator and one of our longest serving trustees, he chaired the Board's Litigation Advocacy Committee and mentored an entire generation of what he called EDF's "hearty band" of lawyers. He never stopped urging them to take on the toughest environmental cases—and win.
"Jimmy's idea was that we could use the law as a tool to get dangerous things out of the environment and move the ball forward," says EDF Board member and childhood friend Governor Thomas Kean of New Jersey. "That's what excited him."
For more than three decades, Jim brought strategic wisdom and tenacity to EDF's legal efforts. During his leadership, EDF and allies won landmark U.S. Supreme Court cases against daunting odds, facing opponents with far more resources to hire lawyers and legal analysts and provide sustained support.
Jim's proudest accomplishments included the Supreme Court's historic 2007 ruling that greenhouse gases are pollutants that must be controlled under the Clean Air Act. When the game-changing ruling came under attack, he led our successful efforts to defend it—and to win the first national limits on climate pollution under ground-breaking clean car standards. The complex litigation spanned several years and was at the forefront of our work to protect human health from climate change.
"He was a visionary. He saw the opportunity to shape and guide the development of laws to address the most profound and compelling human health and environmental issues," says EDF general counsel Vickie Patton, whom Jim affectionately called 'General Patton.' "He could take a look at proposed litigation and swiftly assess its importance, its strengths, and its weaknesses."
"He was a visionary. He saw the opportunity to shape and guide the development of laws to address the most profound and compelling human health and environmental issues."
-Vickie Patton
EDF General Counsel
And he was fearless. "Not everyone always agreed with him. He had the courage of his convictions," says Peggy Benkard, his wife of 49 years.
He could also make a roomful of people erupt with laughter. "Jim had a wicked sense of humor—and impeccable timing," says Fred Krupp.
Governor Kean says he and others showed up to events they would not ordinarily attend if Jim was giving a toast. "His toasts were roasts," says his wife Peggy. "But there wasn't a mean bone in his body. Humor was his way of making people relax. Making people laugh at themselves."
In 1984 Jim was on the search committee that selected Fred Krupp to be EDF president. At an EDF staff retreat in 2012, Jim said that the Board was close to offering the job to someone else when he got a call from an old friend insisting that he talk to a 30-year-old environmental lawyer from Connecticut. What Jim remembered best from that first meeting, he told us, was Fred's "pencil pocket protector and incandescent energy."
Peggy says her husband had a way of asking the right questions to find out how people's minds work, what their sensibilities are, and why they are motivated to do the things they do.
"He saw bringing Fred Krupp to EDF as a true accomplishment," Peggy says.
Jim spent his entire career as a corporate litigator at Davis Polk, one of New York's top law firms. In his spare time, Jim took on pro bono cases involving prisoners with mental illness and death row cases in Georgia, Louisiana, and Tennessee.
"He studied at Harvard and worked at a venerable law firm. He was president of the Knickerbocker Club," says Vickie. "And he took on death penalty cases to protect the human rights of young African American men on death row whose basic rights to a fair trial were being trampled."
In 2007 the New York State Bar Association honored Jim for his work on a case that led to a state law banning the use of solitary confinement for mentally ill inmates.
"There was something rare about his steely personal compass and unwavering commitment to the public good," Vickie says. "We need to hold his spirit and make sure it continues to inspire us."
Jim Benkard believed in EDF—and he wanted us to continue to protect human health and the environment for future generations. For that reason, he left us a generous gift in his will. We invite you to join Jim and other generous supporters of our mission by leaving a gift for EDF in your will or estate plan or by beneficiary designation.
© Pentera, Inc. Planned giving content. All rights reserved.
Disclaimer